Want to Invest and looking for an Investing platform? Here are the best investment Apps in 2023.
Best Investment Apps in 2023
Money can grow exponentially! However, it's on your investment skills that which way this graph will bend. Beginners need to study the investment opportunities at hand and carefully invest their time. Apart from the old school methods of investing such as Jewellery, Property, etc. Learn the difference between trading vs investing. There are many other ways in which you can invest in today's world.
The most efficient and profitable way of investing your money, time and efforts is investing through Online Applications. It allows you to explore the larger horizon of investing whilst sitting on your chair. There are various platforms available for all levels of investors in the market.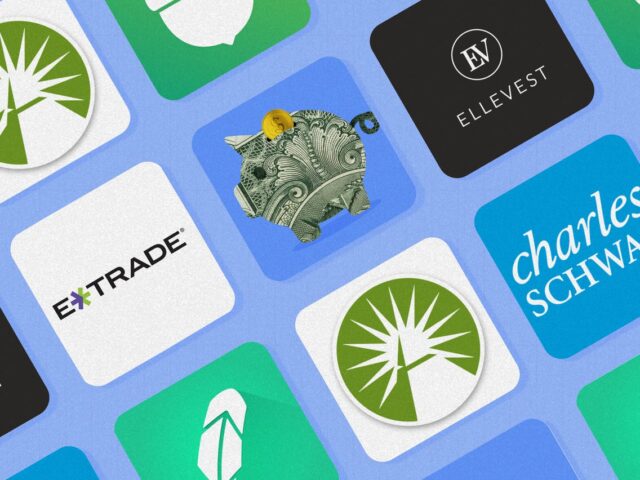 Why do You Need An Investment App
You must be wondering that why do I need an app for investing my money? Well, most beginners do not analyse the risk and management of investing their resources on a certain path. You should also learn how does the stock market works.  This is the most common reason why Beginners face loss situations while investing. Another reason for failure in profit while investing money is a lack of awareness of basic and advanced investing options.
To resolve this issue of unawareness regarding the availability of resources or about outcomes of investing, and investing app is important. Investing app allows you to monitor various aspects of every investment opportunity.
It helps you to calculate and be aware of the legalities and probabilities of loss and profit associated with different investment options. Also, there are many investment options you are not aware of till now, investment apps can guide you through them properly.
Famous names in Investment apps
Although with an increase in investment options, the number of investment apps has rapidly increased, yet, some stand on the top of this list. Investment apps preferred by professional investors in the international market include:
Merill Edge
Etrade
Fidelity go
com
Acorns
Robinhood
P. Morgon and many more
However, the best investing app is the one that suits you and your requirements the best. Therefore, before selecting an app for investing, analyse your situation first.
Best investment apps in 2023
Following are some detailed explanations of how and why some of the investment apps stand different from the crowd of thousands.
ETrade
Etrade is one of the best investing apps preferred by investors of different kinds and levels. Investors can use ETrade from the beginning stage to an advanced one. There are several portfolios available for you to get an investment option. According to your goals, the period for which you wish to invest, the principal amount, and risk factors you are comfortable with ETrade shows you a variety of investment opportunities.
However, the working and execution of investment services in ETrade are simple and short. The only basic condition put forward by ETrade is an initial investment of up to 500 dollars. You can not use any amount less than this for investing in ETrade. ETrade allows you to fully operate your account by using 2 applications they provide for all platforms. Always use stop on quote while buying or selling any trade. You can manage, put in an investment, explore Or simply stop an investment using their app.
ETrade allows different types of accounts and account holders to be benefited from their services. You can make a joint account or individual account for investment on ETrade. Other accounts supported by ETrade include IRAs, ROTH, SEP, custodial, etc.
As far as the charges are concerned on services of ETrade, they have different criteria of payment. For all the active and majorly using clients, ETrade provides free services i.e. starting at zero dollars. Whereas, seasonal investors, charge 0.3% of their total profit over a year. At last, if you have a higher profit profile of up to 25000 dollars at a time you will have to pay an amount of 0.6 to 0.9 per cent of your annual AUM.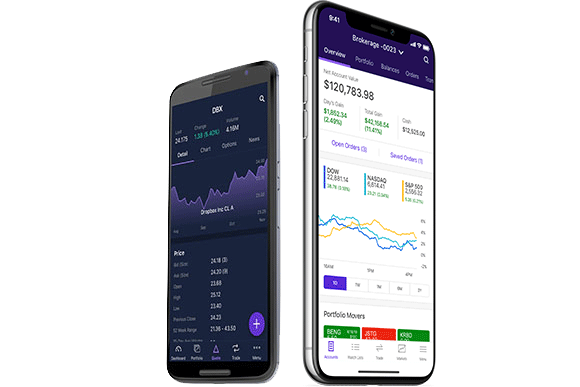 Fidelity Go
If you are looking for an app that is easy to learn, operate and understand, Fidelity go is your best choice. It offers the easiest user interface with which even beginners can interact. To get a personal and customized portfolio strictly according to your requirements, you need to feed the application your personal information.
Data demanded by the fidelity go app includes your risk-taking factor, the goal for growth, capital investment, etc. Always use limit order to minimize your loss. Once you provide this data, fidelity go provides a unique and special portfolio of mutual funds and other investment options for you.
Fidelity go allows you to invest in funds as well as for cryptocurrencies. However, the fee for each is different. Fidelity go Charges a 1.3% fee on cryptocurrency investment whereas, for investment in funds and other investments, it charges no initial amount. Whereas, the fidelity go app charges you a fixed percentage of around 0.3% as an advisory charge on all kinds of investments.
Fidelity go allows you to have different kinds of accounts like joint or individual. This investment app is found best by investors with ROTH as well as traditional accounts. All the accounts accepted by fidelity go are IRA and rollover. Therefore it's good for all the users who want to learn and use investing apps easily.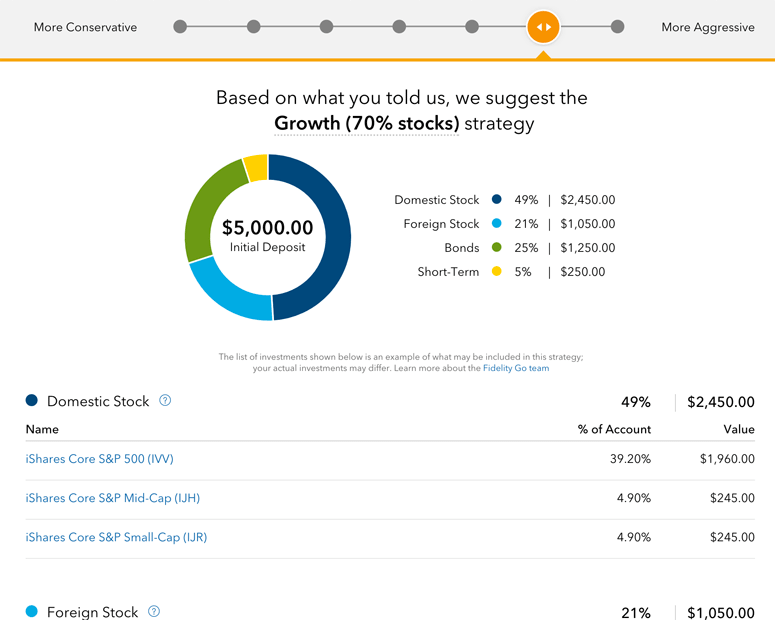 SoFi Invest
For all the beginners looking for an app that allows them to invest their money and efforts without charging them, SoFi invest fulfils all the purposes under one roof. SoFi investment consists of a unique feature of maintaining and initiating an investment account at zero balance. You need no minimum bar or balance in your account for starting investing your money and efforts on SoFi invest app.
One of the major benefits of using SoFi invest is that is automated. You don't need to keep a regular check on your investment plans and opportunity. Also, this app allows you to simply track the current situation of your investment opportunities without your labour.
This app initially requires some criterion set by the user in terms of risk factor, amount, time, and interests. Once you easily give this raw data to the app, it converts it into automated investment opportunities. This portfolio consists of all the investment opportunities available under your criterion chart.
After completing this task, all you need is a small investment as little as a single dollar to start investing. SoFi invest also provides you with a chance of investing in some real-life and cryptocurrency. However, the charges applied by SoFi invest differ from each other. If you invest in traditional ways, there are no charges for you. Although it's free for clients and if you own a cryptocurrency you will have to pay a minimal charge of 1.25 dollars for everything you do.
This platform supports all kinds of accounts from individual to joint. It also allows you to run accounts of different credentials.
Acorns
Acorns are specifically designed for beginners in investing games. If you are a beginner or something thinking of choosing an investment app for various investment opportunities, Acorns is your target. Acorns allow the clients to be benefitted from its user-friendly interface.
As discussed above, acorns are for beginners. Therefore, it allows you to start your career and your account from a scratch. You can start with a minimum of 5 dollars. However, the app doesn't demand any minimum amount you must keep in your account to be saved from the freezing of accounts.
The basic fee of this app is around 1 to 5 dollars. Which is equally charged for all kinds of transactions. The app helps you to grow your money at a very minimal rate yet Securely.
Just like others there are many accounts well supported by this app. It allows you to link your individual and joint accounts closely and operate them using acorns. It also helps in running traditional, SEP, ROTH, etc all under one roof
despite being software for beginners of this field.
So if you are a beginner looking for an investment opportunity, acrons can help you name out and understand every detail in easier language.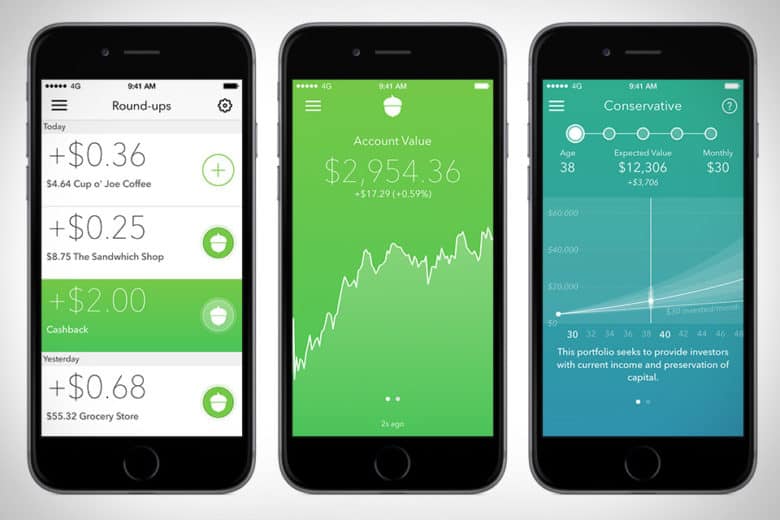 Charles Shwab
Charles Shwab is different from all the investment apps discussed earlier. It is used majorly for high value and regular investments. Charles Shwab is used by professionals to easily manage their investment opportunities using an online tool.
Unlike others, Charles Shwab provides you services at a price. The normal rates of Charles Shwab for their services vary. However, the basic amount payable by the clients is 3000 dollars initially and then turning it into a monthly fee of 30 dollars every month.
However, there is no AUM amount promised by the app at the beginning of this project. Another important thing is that while using Charles Schwab, you need to maintain a minimum account balance of 5000 dollars as per the discussion by a blank.
Charles Schwab is mostly used for higher amount investments and thus supports different accounts such as individual, brokerage, joint, etc. The accounts affiliated as Simple, Roth, or others is also well supported and manageable using Charles Schwab.
Thus, this app is majorly used for higher-order investments of large amounts. You have to learn about most popular candlestick pattern. Professionals looking for an accurate, fast, and easy platform to operate their investment operations can make the most use of this app.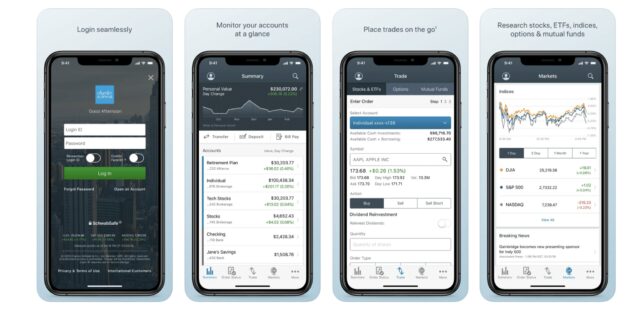 Robin Hood
If you think that instead of a team, you better work alone or simply a lone wolf in investing market, RobinHood can be your wingman. Robin Hood is an amazing platform for all individual who performs brokerages and investments on their own. It comes with an added advantage of an Easy user interface and no commission policy. There is no added expense on any investment option taken by the bank for any purpose.
Robin Hood app allows you to use, maintain, and operate your account at zero balance. Also, you can start an account with no initial balance or minimum balance. Since Robin Hood is for individual brokerage it supports only individual brokerage accounts. However, you can deal with cryptocurrency, stocks, ADRs, etc. Using the same account on Robin Hood app.
An added benefit of upgrading your services is also available to Robin Hood users. If your requirements are not well matched by the current services, you can buy a gold membership of the Robin Hood app. But not to worry, as you can buy this membership at a very low price i.e. 5 dollars. So, if you wish to continue playing solo in your investment game, Robin Hood can be your digital support.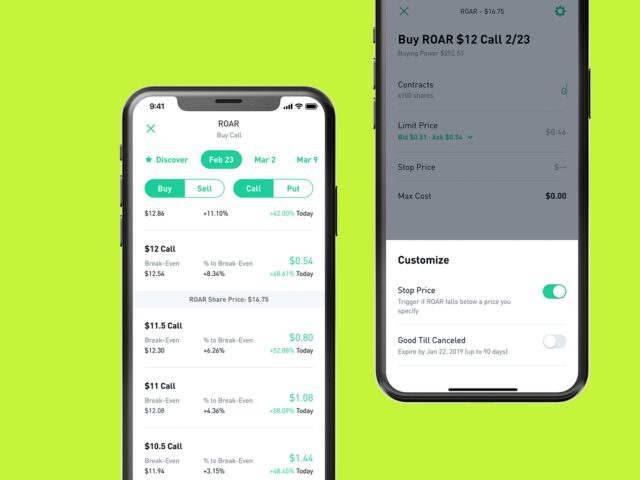 What to Look for In an Investment App
Well, if you no longer want to use your current investment app and wish to switch to another application, here is what you need to look for in an application.  Also you have to check different things before buying a stock so here are you can read this. Check out all the points below.
The very first thing that you will have to do is to choose the investment style that you follow.
Next, you will have to check the fees that you will have to pay for the trade or the brokerage charges that you need to pay on the application.
After this, you will have to choose the investments. Choose one or two investments to try out the application.
Lastly, you will have to research properly about the stocks that you are investing in and also, check out more about the application that you want to use.
So, you need to research for the application and also, check the reviews for all the applications. Therefore, choose the one that suits you the most.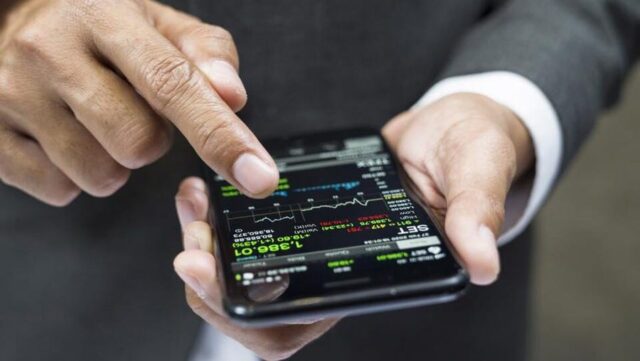 Conclusion
Investing is a very risky and tedious task. However, on actually calculating, understanding and analysing all the aspects of a particular investment option, you can invest at the highest paying rates. To guide you through and before the beginning of your investment period, an investing app is necessary.  You can make money from stock market easily, Read the full article to know more. You can list out various requirements and expectations from your app and select the most appropriate one from the palette. However, if you feel that investing is a gamble, investing app takes out the gamble and replace it with stability for you. Thus, before investing you must consider the pros and cons of an investing option via a reliable and accurate Investing app.
Frequently Asked Question
Which is the best investment app? 
If you are looking for an investment app to start learning and earning money with stocks, you can use applications like Robinhood learn more, Ellevest learns more, Acorns invest to learn more. Here, you can not only trade but also learn about investments.
Which investment should I choose for India? 
For India, you will come across different applications like Groww, myCAMs, Zerodha, Paytm, track, and ETMONEY. On some applications, you may find only the mutual funds option and on some, you can trade both mutual funds and stocks.
Which is better Groww or Zerodha? 
When we talk about the overall ratings of the application, Zerodha has got more ratings than Groww. Other than this, the brokerage amount on both applications is 20 per trade. In Zerodha, three different exchanges are supported i.e, NSE, BSE, and MCX but, in Groww, only NSE and BSE are supported.
Can One person have 2 Demat accounts? 
Surely, one person can have multiple Demat accounts but, should have not it under one depository participant. It should be under a different DP. So, whenever you will create a new Demat account, you will have to make sure that it is under a different DP.