In the realm of marriage rituals, a common conundrum for modern couples is whether to don the engagement ring before the wedding band or vice versa. This decision often hinges on a delicate balance between adhering to age-old customs and embracing contemporary trends. In this exploration, we delve into the advantages and drawbacks of both choices to help you navigate this symbolic decision.
Tradition: Engagement Ring First
One of the prevailing traditions is to wear the engagement ring first, a practice steeped in symbolism. Engagement rings serve as a tangible symbol of the commitment shared between you and your partner. Placing it on your left ring finger is a universally recognized announcement of your engagement, eliciting congratulations and well-wishes from friends and family. For many, the engagement ring holds a deep emotional significance, signifying the initial step towards a lifelong journey together.
Trend: Wedding Ring First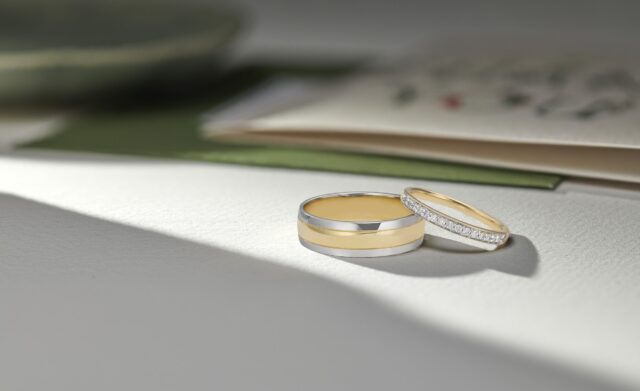 Alternatively, some modern couples opt for bucking tradition and choose the wedding band first. This decision often boils down to practicality and budget considerations. Wedding bands tend to be simpler and less ostentatious, making them easier to wear daily and pair with various outfits. Moreover, wedding bands are typically more budget-friendly than their engagement ring counterparts, allowing couples to allocate their financial resources more evenly or invest in other facets of their impending nuptials. This choice can be seen as a conscious decision to prioritize the commitment itself over the pomp and circumstance associated with the engagement.
The Middle Ground: Stackable Rings
The concept of stackable rings offers a stylish and flexible middle ground for couples caught between tradition and trend. These versatile rings allow you to strike a balance between the symbolism of both engagement and wedding bands. By wearing them together, you create a visually appealing and customizable look.
Stackable rings cater to individual preferences, providing the freedom to mix and match different metals, gemstones, or designs. You can place your engagement ring on top of the wedding band or vice versa, enabling you to switch the order or even wear them separately to suit your mood or the occasion. This approach not only honors the significance of both rings but also adds a touch of uniqueness to your symbolic expression of commitment, making stackable rings an increasingly popular choice for modern couples.
Personal Choice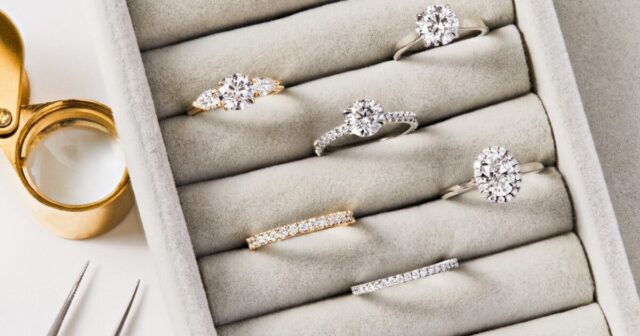 Ultimately, the choice of whether to wear an engagement ring or a wedding band first should reflect your personal preferences and those of your partner. Your love story is uniquely yours, and you should select symbols that resonate most deeply with your relationship. Customization, such as engraving special dates, names, or meaningful messages, can further personalize these tokens of your love.
Communication is Key
Crucially, open and honest communication with your partner is essential when deciding on ring preferences. Ensure that both of you feel comfortable and aligned with the choice made. If one partner wishes to maintain an element of surprise, consider temporary or symbolic rings to preserve that aspect of the proposal.
Conclusion
The decision of whether to wear an engagement ring or a wedding band first should be guided by your personal values, style, and the narrative you wish to create as a couple. Whichever path you choose, remember that the significance of these rings resides in the love and commitment they symbolize, reinforcing the uniqueness of your journey together.