Power banks help prolong the work of your favorite gadget if there is no electrical outlet nearby. What are the characteristics you should look for in this device?
1. Choose the battery capacity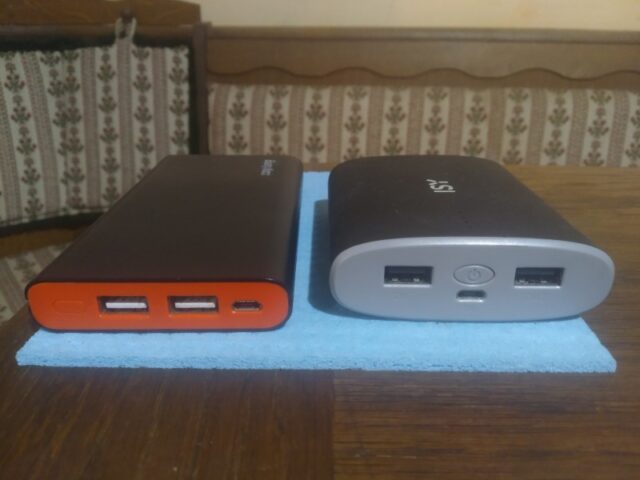 The pattern is simple: the larger the capacity, the better. In addition, the power bank always has a minimum self-discharge of the battery, and over time its characteristics deteriorate, so choose a battery with a margin of 20-30%.
An important nuance: the larger the battery capacity, the larger the weight and size of the power bank. Models with a capacity of 5000-9999 mAh will help you recharge your smartphone during the day, and batteries with a capacity of 10000 mAh can be safely taken with you on a trip for 2-3 days. For a multi-day hike, choose a powerful power bank from 20000 to 30000 mAh in a durable metal case.
More compact models with a capacity of 2500 mAh or less will help increase the frightening 5% of the charge and reach the socket at home. They are small, and lightweight, even in the form of a keychain.
In addition to the familiar formats, there is a power bank in the form of a smartphone case. Such models increase the size and weight of the device, and are not universal – you have to choose the device according to your smartphone.
2. Choose the functionality
If any external battery is suitable for the smartphone to charge the laptop, choose a special model, the specifications of which indicate such a possibility.
Only have 10 minutes to recharge? Choose a Power Bank with support for Qualcomm Quick Charge 3.0 or Qualcomm Quick Charge 2.0 fast charging technology. Please note that such models will work only with those gadgets that also have this function. Models charging fast are the best solution for capacious power banks. Otherwise, if a 10000 mAh battery has a charging current of only 500 mAh, it will take 20 hours to fully charge it.
For those who do not like to carry wires, there are batteries with wireless charging. They will fit any device compatible with Qi.
The presence of a flashlight in an external battery is a nice bonus. For example, on a hike, such a device will definitely not be superfluous.
3. Choose the number of output connectors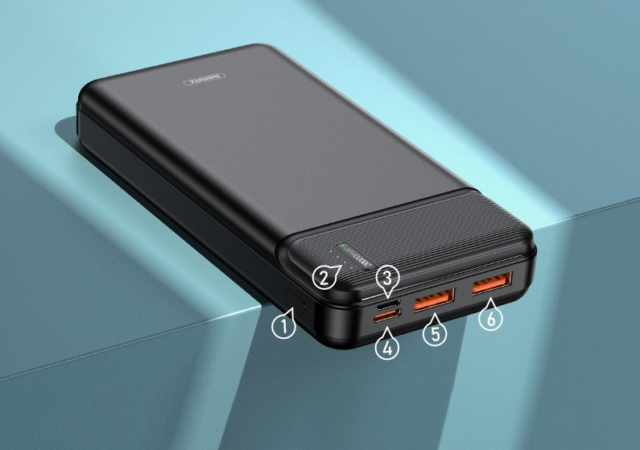 Most models have one or two USB output connectors. There are power banks that have three or more connectors, as well as USB Type-C, Apple Lightning, and charging from a regular outlet.
If the battery has two outputs, often one of them has a lower charging current (for example, 1 A), and the second has a higher current (2 A). The outputs are designed to charge different devices because smartphones need a charging current of 1 A, and tablets – 1.5+ A.
An important nuance: most universal batteries go with the maximum charging current when one device is connected.
If you use two outputs of 1 and 2 A at the same time, both of them will produce 1 A.
4. Choose the way to charge the battery
There are two ways to charge the battery:
Fortunately, Micro-USB is gradually becoming a thing of the past, because, unlike USB Type-C, it does not provide high data transfer speed and fast charging, and is limited in multimedia support.
If a connector like in a smartphone or tablet is used for charging, the battery can be charged from the grid or computer.
Batteries charging only from solar cells are not very practical. Their solar panel is usually quite small, which is why it takes a long time to charge them. Plus, the lithium-ion battery itself is afraid of overheating, which makes it difficult to charge from the sun on a hot summer day.
The ideal choice is a device that supports 2-3 charging methods.
5. Choose a power bank for laptop charging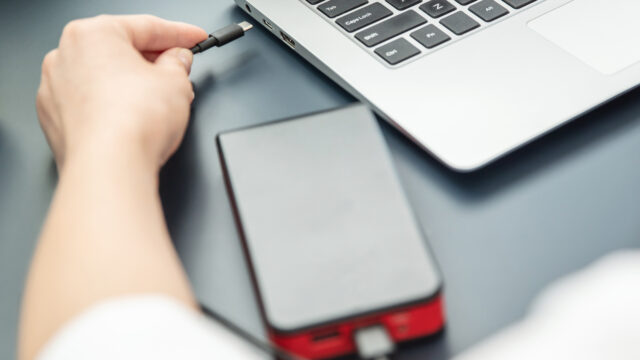 When choosing a power bank for charging a laptop, pay attention to the key parameters.
The process of charging a laptop is more complicated than a smartphone. The familiar scheme, when we take the gadget and power bank, connect the cable, and charging starts, will work only for owners of laptops with a USB Type-C connector.
If your laptop does not support charging via the USB Type-C port, or the model simply does not have such a connector, you need to buy a special cable and an adapter for the power connector, for example, for a standard round connector.
Choosing these accessories, be careful: they must match the power connectors of your laptop model and pass the required current. If something goes wrong, you can always find a laptop repair service, of course.
Do not go cheap: such cables and adapters are likely to work poorly, interrupt charging, or not charge the laptop at all.
Important: you cannot use USB 2.0 or 3.0 connectors to charge your laptop. They transfer energy only to the output and do not have enough bandwidth to power the laptop.
An external battery for a laptop should not just be powerful. Its maximum power should be equal to or higher than the power of your laptop charger. The power parameters of any model are indicated on the information stickers on the bottom of the laptop and the charger unit. It shows the power in Watts (W), the output voltage in Volts (V), and the current in Amps (A). If the power is not indicated, multiply A by V to calculate it.
For example, in the photo above, the charger sticker has the following data: output voltage 19V, output current 3.42A, and power 65W. The laptop model shall require a power bank of 65W capacity or more.
An important aspect for owners of gaming laptops. These models have a powerful video card and processor, and their power supplies deliver 100W or more. It will be difficult to choose an external battery for them, the choice of such models is significantly limited.
Useful tips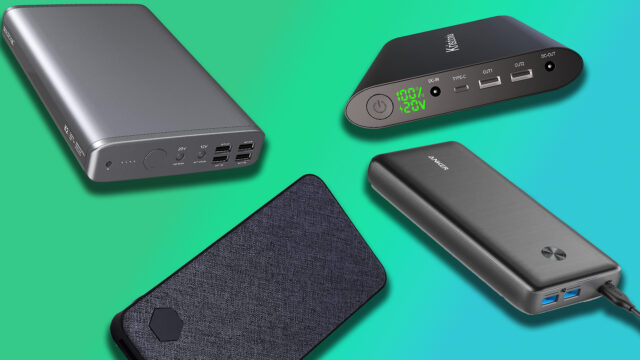 Although the charge indicator does not affect the performance of the power bank, it is a convenient feature. In most models, these are LEDs, but there are also power banks with a display showing the exact level of charge.
One of the crucial parameters of external batteries is the charging current that they can provide. In most models, it varies from 1 to 3 A.
Before buying a power bank, look at the marking of the charger of the device you will charge.
If the smartphone has a 1 A charger, choose a power bank with the same or higher output current.
If you take a battery with a lower charging current, the device will charge longer, for example, three hours instead of two.
Hopefully, this guide will help you choose a power bank. Happy New Year!