When someone mentions home security and automation, it is easy to start thinking about things like wireless video cameras and smart thermostats. These are the types of devices that typify modern smart homes. What most people don't know is that what's 'under the hood' is that which is really important. What is under the hood? A full array of electronic sensors.
Sensors are the heart and soul of home security and automation. Without them, neither technology would exist. But rest assured that sensors are neither new nor exclusive to home security and automation. They have been around for generations. Furthermore, they account for an almost unlimited number of functions we all take for granted.
Artificially Sensing Stuff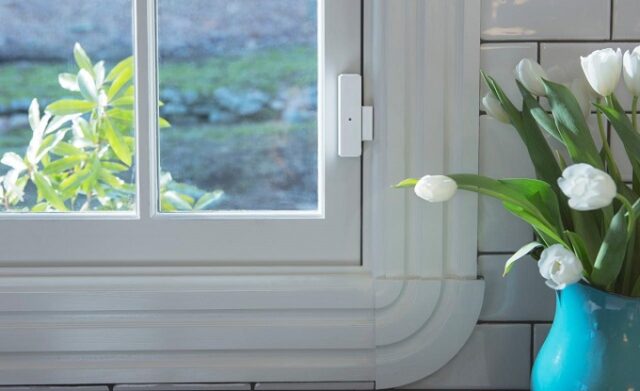 Sensors are so named because they artificially sense things. Take the thermostat in your car. It senses when the engine is getting too hot by reacting a certain way as the temperature goes up. If the temperature gets too high, the sensor triggers a warning you see on your dashboard.
Technically speaking, a sensor is any component designed to measure a certain condition and then react when said condition changes. These days, nearly all detectors are electronic. Only a few are still mechanical. But prior to the advent of electronics, mechanical ones were the norm.
In a typical smart home, sensors are everywhere. They are built into lights, heating and cooling systems, irrigation systems, and on and on. Sensors are also the foundation of home security systems. They sense when conditions warrant sounding an alarm.
Many Different Types of Sensors
For purposes of illustration, the rest of this post will be dedicated to discussing different types of sensors in a home with a security system and home automation devices from Vivint. If you are interested, Vivint offers plenty of information on its website discussing sensors, home automation, and security equipment.
1. Window and Door Sensors
Beginning with home security, window and door sensors are electronic devices placed on first-floor windows and doors. Each sensor is composed of two pieces that make direct contact as long as a window or door remains closed. This is the neutral position.
When a window or door is opened, contact between the two pieces is broken. This is the alert position. The piece mounted to the window or door frame senses the loss of contact and immediately sends a signal that the door or window in question is open. An armed security system will then sound the alarm as a result.
Window and door sensors are among the most basic in the home security environment. They are far less technically involved than some of the other types of sensors you could find in a typical smart home. Their simplicity makes them quite effective and reliable.
2. Motion Sensors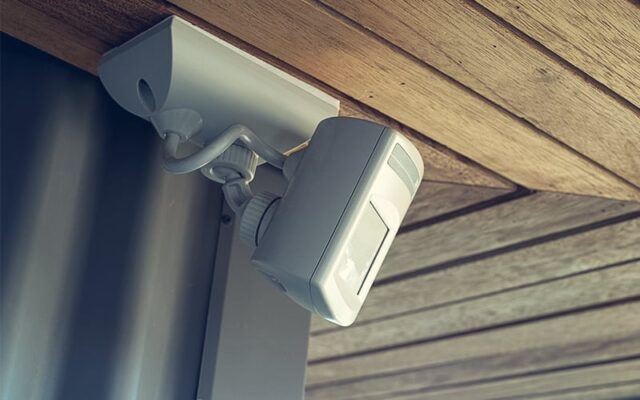 Next up are motion sensors. They do exactly as the name suggests: they sense motion. The most basic form of motion detector is one that sends out microwaves and receives them again as they bounce off objects. Motion is sensed when the stream of microwaves returning to a sensor is interrupted by movement.
Motion sensors have a variety of applications in smart homes. They can trigger lights to turn on and off. They can trigger video cameras to start and stop recording. Motion sensors in a thermostat can generate data that helps the thermostat artificially learn a homeowner's routine.
3. Smoke, Carbon Monoxide, and Water
It is not unusual for the modern home to be equipped with at least one smoke detector and one carbon monoxide detector. Many homes have multiple detectors of both types. Guess what? Smoke and carbon monoxide detectors are just sensors designed to monitor the presence of two distinct things.
A smoke detector is a sensor that relies on a small beam of light to detect smoke. A carbon monoxide detector is a sensor that checks air quality in order to monitor for carbon monoxide. There is really nothing more to these two devices than that. They are both just sensors.
Above and beyond smoke and carbon monoxide detectors, you can also equip your home with a flood sensor. A flood sensor is a small device that remains inactive as long as it stays dry. But the minute it gets wet, it goes into alert mode. It sends a signal to a home's smart hub to warn of water in the space.
4. Temperature Sensors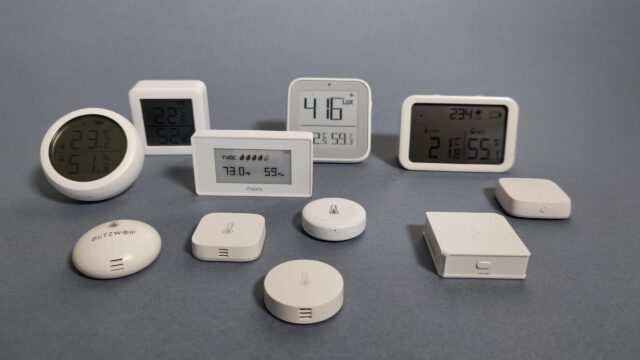 One of the oldest sensors known to man is the temperature sensor. Way back before electronics, we called temperature sensors thermometers. An old-fashioned thermometer relies on mercury, and how it reacts to heat, to measure the temperature.
Did you know that your thermostat has its own built-in thermometer? It may be an analog thermometer if you still have a fairly old thermostat. But if your thermostat is newer, the thermometer is likely electronic. Regardless, the thermometer is a temperature sensor that ultimately controls when your HVAC system turns on and off.
5. Light Sensors
One final sensor type is the light sensor. As its name suggests, it monitors light conditions in order to artificially sense how light or dark a given space is. Light sensors have plenty of applications. For starters, you may have exterior lights on your home that automatically turn on at dusk and then back off at dawn. Built-in sensors make it possible.
Do you have video surveillance cameras at home? If so, consider this: the electronic component that captures images is a technologically advanced light sensor. It monitors light, interprets what it monitors, and translates the data into an image. Pretty amazing, right?
There is so much more this post could discuss if time and space were not issues. But based solely on what was mentioned, we can safely say that sensors are everywhere. They are in the cars we drive, the houses we live in, and the offices at which we do our work. Sensors are the heart and soul of a digital world that relies on electronic devices more than ever before.